&times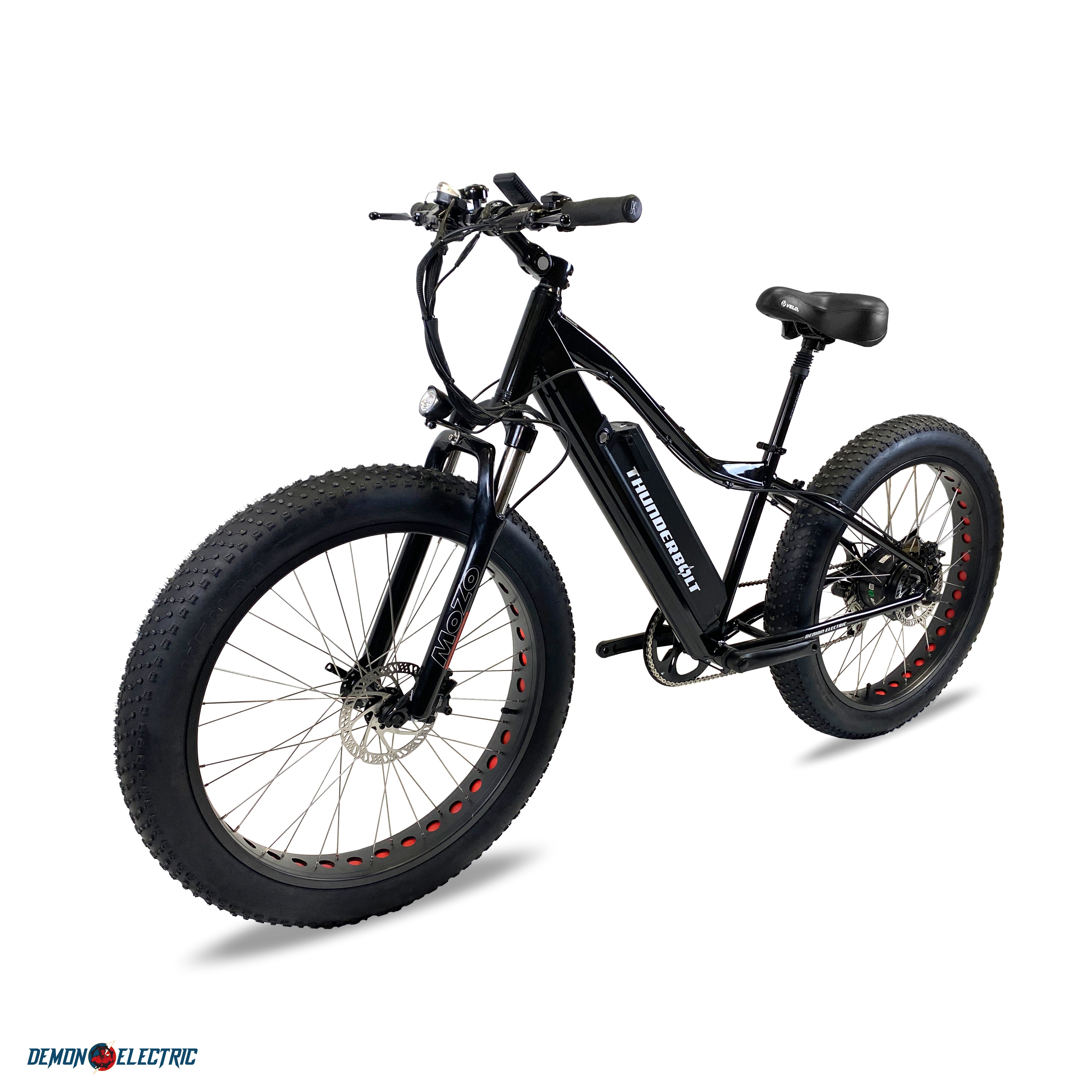 ALUMINUM ALLOY FRAME
Rust & corrosion resistant, our durable, lightweight frame was built to last and tough out the seasons. From summer, all the way to winter, our frames can withstand
any condition. Resilient, heavy-duty and ready for anything.
BAFANG MOTOR
Industry leading motor with all the power necessary to propel you to your destination. Efficient and swift, Bafang's rear & mid-mounted brushless motors give you the confidence to boost your ride and daily commute to the next level.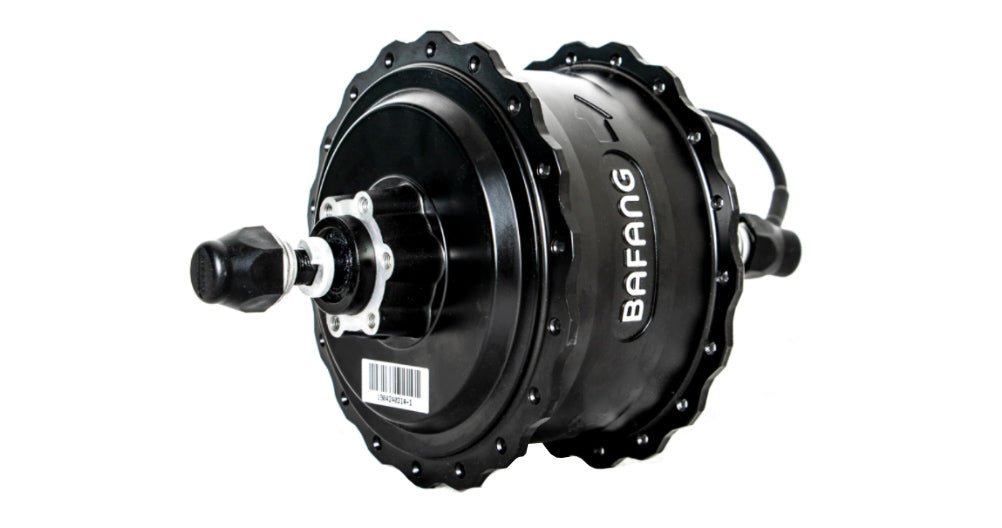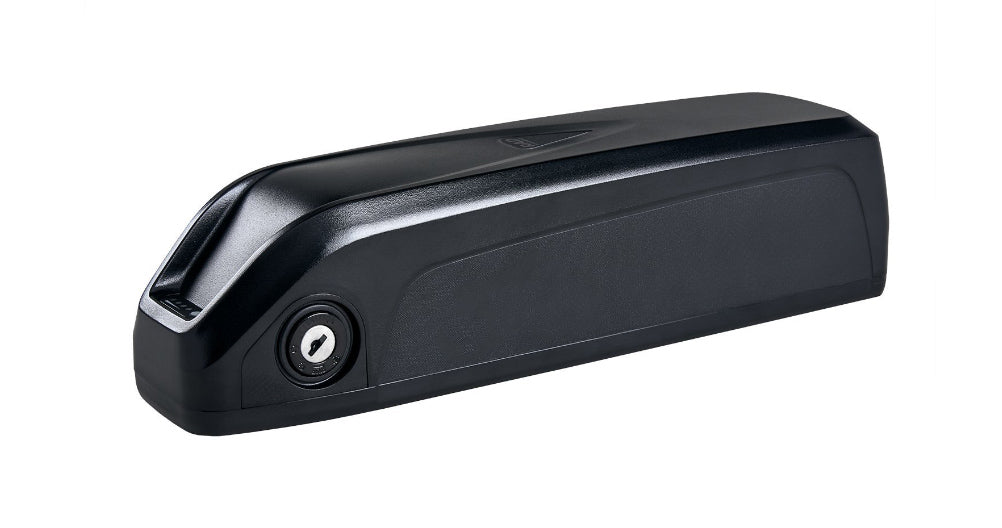 SAMSUNG BATTERY
Samsung's reliable quality makes their long lasting battery a lifesaver. Effortless design and easily removable, this lithium Ion battery can be charged anywhere, anytime. With a range of up to 60 Km, there's no ride these batteries can't handle. Cycle assured without worrying about a recharge.
LCD DISPLAY CONTROLLER
Demon's E-bike control hub is straightforward and simple to use. With a user friendly interface and uncomplicated design, Demon lets you curate your ride. From speed in KM, to trip time, Demon gives riders the command and control to facilitate their individual needs. Dictate your ride, your way.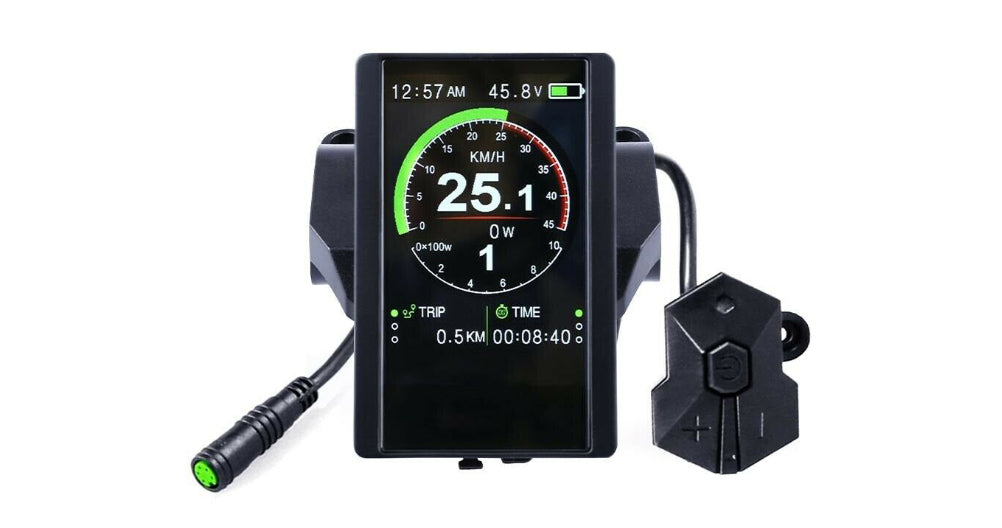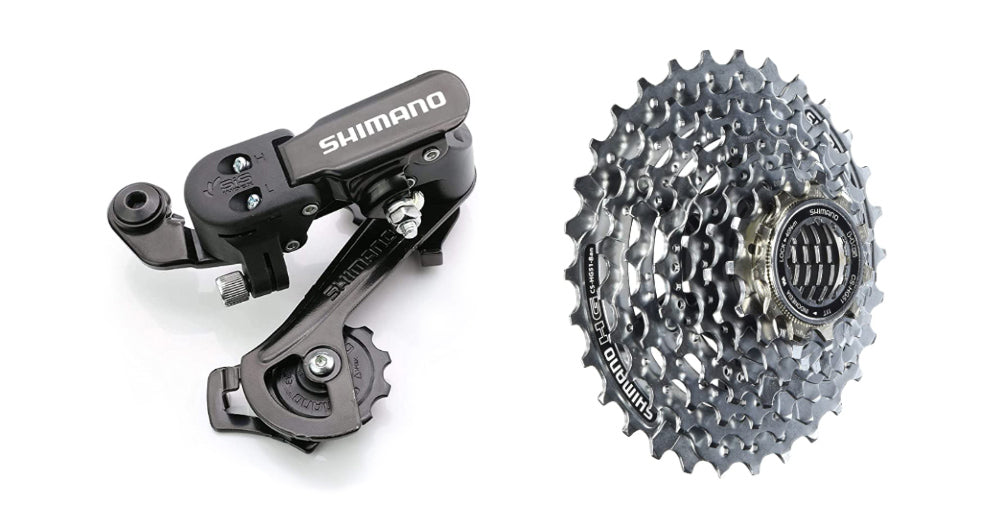 SHIMANO GEARS
Established in 1920 and a trusted staple in the riding community, Shimano is a brand that has guaranteed excellence for over 100 years. Lightweight and built to operate effortlessly under heavy loads, Shimano's smooth transitioning makes for an amazing every day, trustworthy derailleur.
TEKTRO BRAKES
Superior brakes with the goal of delivering the safest and best performing products in the world. Tektro's belief in human precision with the help of automated machines, ensures all Tektro brakes are made with extreme quality control, providing you with a safe and secure journey.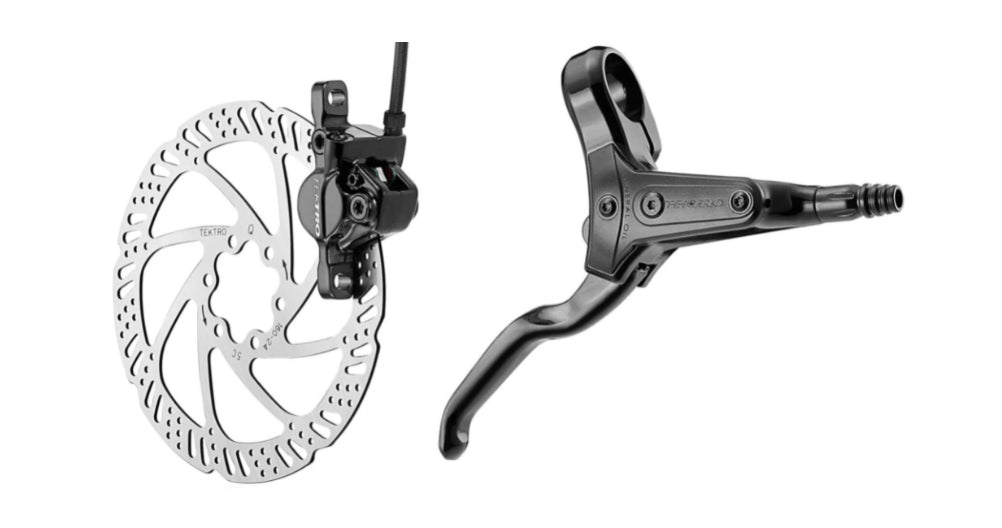 &times
POWER
---
MOTOR
500W Rear Mounted Brushless Motor
Battery
48V/10.4Ah Removable Li-ion Battery
Charger
AC 100V - 240V 2 amps

SPEED
---
Drive Mode
Cadence Sensing Pedal Assist & Throttle (0 - 9 Levels)
Brake
Front & Rear Tektro (M280) Mechanical Disc Brake
Derailleur
Shimano Tourney 7 Speed
COMPONENTS
---
Frame
Aluminum Alloy
Weight: 25 kg
Wheels: 26"
Dot-Matrix Display
LCD Display APT 850C Color Display
Lights
Battery Powered Front Light, Seatpost Mounted Rear Light
Handlebars
Promax Handlebars
Tires
Kenda 26" x 4" K1151
Display
LCD Color Display
Assist Type
Cadence Sensing Pedal Assist & Throttle (0 - 9 Levels)
&times
MOTOR: Rear Mounted Brushless motor. 500W output reaching top speeds of 32km/h

BATTERY: 48V / 10.4Ah with a 50-60km Range. This battery can be locked and unlocked by a key (2 included) and is easily removable without disconnecting any wires to facilitate charging.

GEARS: Shimano's Tourney 7 Speed. Catered towards mountain bikes, commuters, and hybrids.

BRAKES: Tektro M280 (Mechanical). Cable actuated mechanical disc brake, with linear pull brake levers. Caliper: 2 piece-Aluminium / Steel body with automatic Caliper Centering (A.C.C)

COLOUR LCD CONTROLLER: 9 Speed Pedal Assist. Display can show Range, Trip in KM, Max Speed, Avg Speed, Trip Time

KENDA JUGGERNAUT FAT TIRE: 4" wide tire Inspired by the championship Milville 2 tire for tough grip on all terrains. Long lasting, fast rolling rubber has the versatility to withstand the toughest of trails.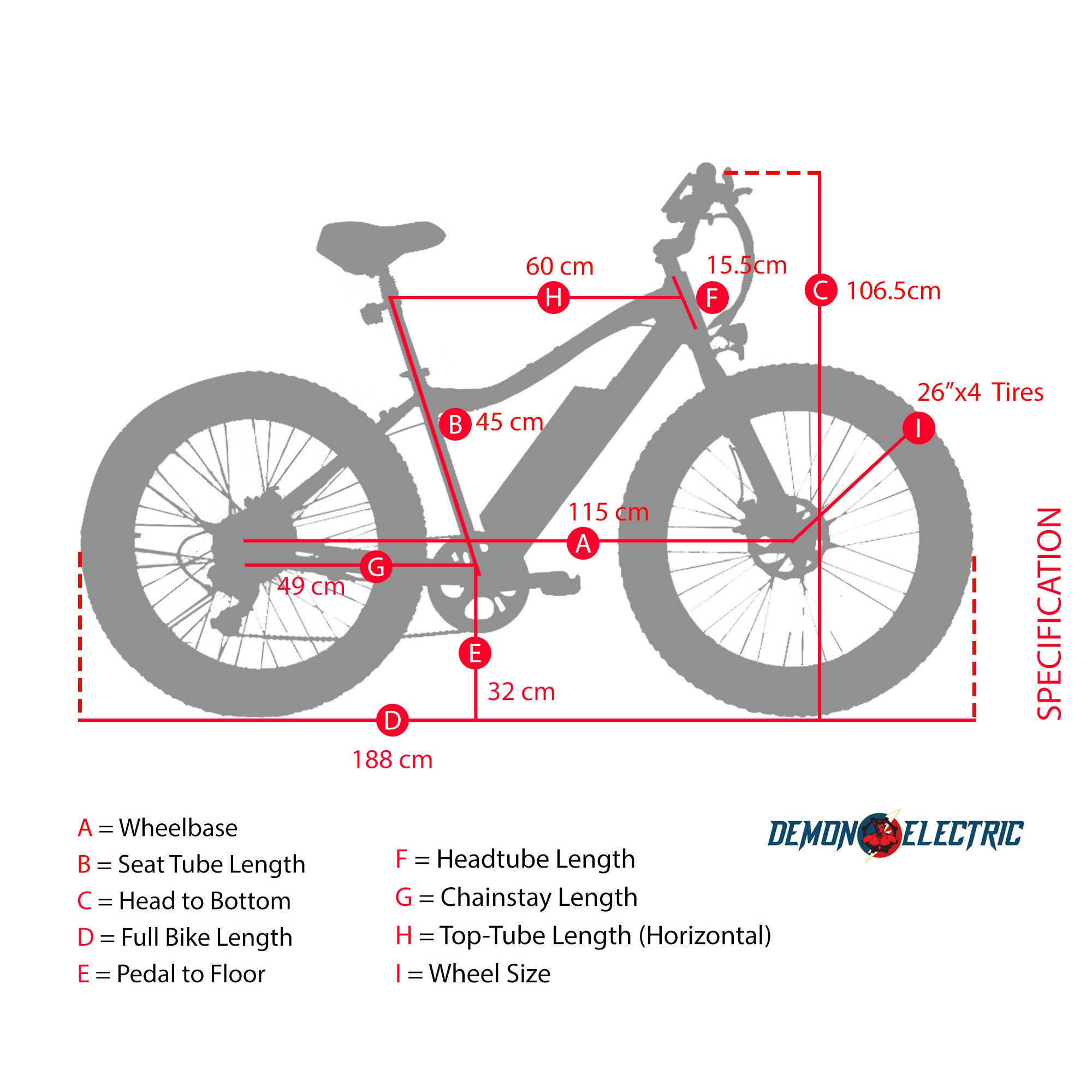 Customer Reviews
08/28/2023
Devon F.

Canada
Straightforward and comfortable
I recently got the Thunderbolt electric fat tire bike, and I'm genuinely impressed. The smooth electric assist really makes uphill rides a breeze, and the fat tires provide a stable and comfortable experience on various terrains. Charging is straightforward, and I'm pleased with the battery life. The Thunderbolt strikes a great balance between convenience and adventure. I might even consider upgrading to the SL version!
07/26/2023
maurice d.

Canada
pork on my forks
Great bike and fun to ride! I unfortunately had my forks bend on one of my thunderbolts after only a few rides. I brought the bike to my place of purchase and was not given too much support. The support was just about as strong as the forks.... I ended up using a hydraulic press to straighten them and now they are twisted a bit but I can still ride.
01/23/2023
Miso

Canada
Fun using on the trails
I compared a lot of different ebikes online but this one seemed best value. The specs, price and parts you get on it, and that they also run a powersports company and aren't just an amazon or online reseller made me feel more comfortable buying from them. Been riding whenever I get a chance and there haven't been any problems or decrease in battery life or performance.
01/03/2023
Kimberly H.

Canada
Prefect for winter time!
This Fat Tire e-bike will take you through pile of snow easily delivering smooth riding experience. Comes with all sort of high-end branded parts. Money well spent!
12/21/2022
Carolina

Canada
So impressed!
I've recently had the opportunity to ride this bike and I can freely admit that I'm very impressed with the quality and build of this bike. The ride was great, and all controls easily changed while riding. The best of all in the versatile it is in snow as well. All in all a great bike, and I've already recommended it to my neighbor! .
Great bike! Like the distance it goes on one charge. As long as you use the pedal assist as intended, you can go further than the 72K advertised distance. Obviously, the more the battery assist kicks in, the more power is consumed.

Haa
The helmet fits well. It's not noticeably heavier than my previous helmets the audio volume could be louder, but it's probably safer this way. The lights work well. Stays charged for at least 10 hours of riding.


TsLilly
Great little helmet that broadcasts your presence on the road!


Robert Galida